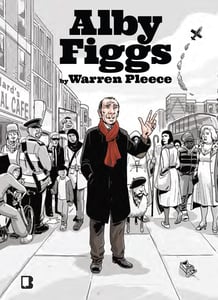 £

8.99
A collection of Warren Pleece's first year of strips with his talkative
septuagenarian Londoner, Alby Figgs, as he wanders around town giving everyone the 'benefit' of his vast array of tales of the old times and his philosophical musings about life. Park bench sage or public enemy number 50,000? A man with an incredibly connected path or just a serial fabricator?
Take a stroll through Alby's 'everyday', around the streets, pubs, cafés, shops and parks of London town as he extols elasticated truths, facts and theories to the disinterested, unsure and bemused without ever coming up for a breather.
This collection features 53 strips, revised and remixed for this edition, plus a few other special features.