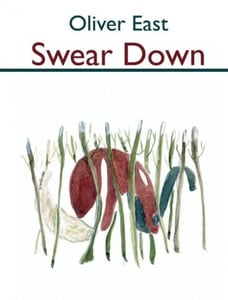 £

14.99
By Oliver East | 130 pp | 236 x 178mm | full colour | hardcover | £14.99
East walks out of his front door and follows the line of longitude through England, France, Spain then Africa. In this first volume East walks from his Manchester home out and into England recording the landscape, the architecture, flora, fauna and the thing he's walking away from in the first place."
By far the most personal of Ollie East's works, this book cov- ers the changes brought about by the birth of his first child and the impact of the difficult birth on both himself and his wife Claire. At times painfully honest, always deeply felt and human, it's another step along the path to becoming one of comics' true originals.
"Oliver East's perambulating comics are thoroughly unique and Swear Down is his best yet"
- John Porcellino, creator of King-Cat Comics and Stories
"Technically inventive with formal sleights of hand, this is a rare type of comic book that reads like a poem. Swear Down is like a train trip through one's memory to the station of the heart."
- Frank Santoro, creator of Storeyville and Cold Heat
OLIVER EAST is an Ignatz award-nominated comic creator with an unique style helping redefine UK comics. Familiar to music lov- ers as the cover artist on the Mercury award winning Elbow album The Seldom Seen Kid (as well as providing art for the video for 'Open Arms' from 'Build A Rocket Boys!'), Oliver divides his time between pro- fessional illustration and his comics work. He cur- rently lives in Manchester with his wife and son.