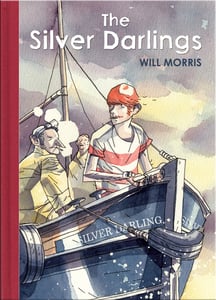 £

9.99
Ayrshire, 1967. It's avid photographer Danny's last summer in his home town before he heads off to Glasgow and to college. But before he leaves the ailing fishing community he has a long week in prospect on board his dad's fishing boat, The Silver Darling.
Uninspired by the family business and with a head full of modern ideas, Danny decides to challenge the crew's superstitions and bring 'a spirit of enlightenment' to his week at sea. But by taking aboard a strictly forbidden cargo, Danny gets more than he bargained for and learns a few lessons of his own.
Writer and artist Will Morris revisits an industry in decline to create a story that's as much a coming-of-age tale as it is a tribute to Ayrshire's historic fishing community. Packed with humour, pathos and rendered in Morris' beautifully atmospheric ink-washed art, The Silver Darlings is an unmissable debut graphic novel from one of UK comic's fastest-rising stars.
Praise for Will Morris & The Silver Darlings
"Will Morris sculpts a world of wild, glittering seas and inner turmoil from delicate watercolour, expressive lines and sparse, potent words. You can practically smell the sea salt on his drawings. Superstition, luck – it's all in the mind, isn't it? The Silver Darlings makes irrational beliefs as tangible as waves, as biting as storm spray in your face. A beautiful book."
- Nick Abadzis, Eisner-winning author of Laika and Hugo Tate