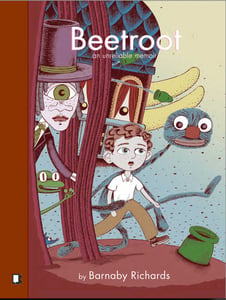 £

11.99
In this memoir of childhood, Barnaby Richards recounts how his family moved to Beirut in 1980 just as the already unstable situation in the Lebanon was about to turn into something worse. We see what it is like to live amidst chaos in a city where guns and bullets are commonplace, where danger lurks just round the corner. All seen through the eyes of a child who can't get his tongue round the word Beirut–it becomes Beetroot–a world populated with his own wild imaginings as well as the reality of feeling he is living as if he were Lebanese: a blue eyed, arab boy.
Dreamily-etched pictures take us inside young Barnaby's mind as he dodges bullets and giant sentient snakes, and wanders across the city's rooftops with his imaginary friends. Open this book and accompany him on his journeys, encountering the many unknowable people and bizarre creatures with mysterious agendas who populate the strange world of Beetroot.
Ultimately this book is about the way memory works, how when combined with a child's ability to mix reality and fantasy it leads to unreliable memories. Unreliable memories which become long-held realities.
ISBN: 978-1-906653-60-6 | 64pp | Hardcover | Colour | £12.99