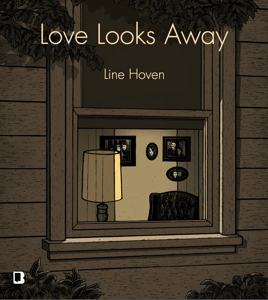 £

14.99
Line Hoven's first Graphic Novel tells a tale of her family with stories from the past interwoven deftly with those of the present to show how with time and willingness, cultural barriers and prejudice can be overcome, because 'Love Looks Away'. The story begins with her Hitler Youth grandfather Erich - obsessed with his radio and the music of Mendelssohn, and goes on to show how her own parents overcame cultural and language difficulties to prove nothing is 'forbidden' where love is involved.
'Love looks Away' won the prestigious ICOM award in 2008 as the best Independent German comic.
Line Hoven is an illustrator and comic artist; she uses a highly meticulous scratchboard method - using black card and scratching out contrasting white lines, surface areas and filigree textures. The book has been translated into Italian, this will be it's first appearance in English. Love Looks Away is the author's first book; she lives and works in Hamburg.
"Again and again one discovers fine nuances in both content and aesthetics and these compound to make this comic book one of the most interesting German-speaking comic book publication of recent years." Matthias Schneider, Goethe-Institut Stockholm.
"Love Looks Away', Line Hoven's first full length comic, is a delight not only because of the powerful, scratchboard images she's created. The side stepping story of her own American/German family proves the art of the 30 year old's storytelling. A true discovery." Matthias Schmidt, Stern Magazine.