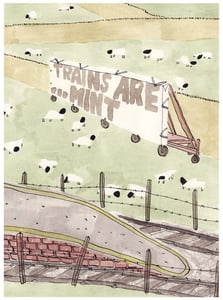 £

12.99
Oliver East is one of the best known names in the vibrant British small press scene, with his Trains Are Mint series using an artist's eye to spot out the many elements which make up the everyday world around us but which we often simply tune out and don't notice, spotted as he travels around Manchester, all detailed with some lovely artwork. This is his first large collection of his work.
"Oliver East has produced one of the most unique works to come out of the UK small press scene and one that I believe has a chance of crossing over to a much wider audience. His comic forgoes word balloons and the text and speech is all written in Oliver's own longhand superimposed upon the images. Essentially this is a diary of walks along the train tracks between Manchester and Blackpool in the northwest of England.
The story is told in deceptively simple watercolours that many will see as childlike (somewhat like the work of a young John Porcellino) although in fact they convey not only the narrative but also the spontaneity of sketches - which seems highly appropriate to a diary. It also serves as eyewitness to what modern Britain is like behind the tourist posters, showing the everyday lives of small towns and people, and the often deep drabness at their center, it reminds me in feel of the films of Shane Meadows."
- Kenny Penman, director Forbidden Planet International and publisher of Blank Slate Books.
"On the Road becomes On the Track as Oliver tramps, traipses, strolls and slogs from station to station… A unique use of comics, almost a time capsule of the unrecorded, everyday provinces,"
- Paul Gravett, organiser of the ICA Comics festival and author of numerous books including Great British Comics.
Hardcover - 122 pages - Colour - Published May 2008
Slate 1