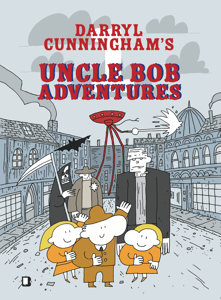 £

14.99
Slate 13 | Flexi-cover paperback |68 pages | Published November 2013
Out now! Head over to our webstore to order today!
Free shipping within the UK, standard rates worldwide.
Prepare yourself for a roller-coaster ride through strangely familiar territory as Darryl Cunningham brings us these curiously direct yet subtly dark stories related by his man-of-action hero 'Uncle Bob'. Soldier, adventurer, explorer and personal envoy to Her Majesty Queen Victoria, Bob is intrepid, fearless and more than a match for any of the bizarre foes he encounters in his incredible adventures on land or at sea, in the air or deep at the centre of the earth.
Terrific fun for all ages, these deceptively simple tales will put a smile on everyone's faces. Famous for his highly acclaimed books Psychiatric Tales and Science Tales, this is an altogether different side of Darryl, as he indulges in these stories for children of all ages which allow him to abandon fact and embrace wild fantasy.