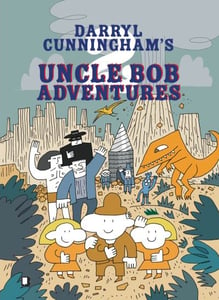 £

14.99
For curious minds of all-ages comes Uncle Bob Adventures 2, the new volume from Darryl Cunningham, the acclaimed author of Psychiatric Tales.
Looking at him sitting in his favourite cosy armchair, you'd never guess that Bob was anything more than a friendly old man. However, underneath those white tufts of hair is an unmistakable glint in his eye—that of a globetrotting adventurer.
Recounting his outrageous escapades to his two nieces, Uncle Bob details
secret histories and unbelievable encounters. In this volume, Bob tells stories of ferocious beasts hidden at the heart of the jungle, a journey to the Earth's core, his gunfight with a mysterious jewel thief, and meeting the famed giant ape of Skull Island.
Conceived as a tribute to the classic adventure, horror, and sci-fi stories
that continue to inspire Darryl Cunningham to this day, the author
humorously refers to Uncle Bob Adventures as a The League of Extraordinary Gentlemen for younger readers". Written with same trademark intelligence and respect for his audience as in Darryl's adult-oriented work, this is the perfect way to introduce children